Salute e Felicità |


Health & Happiness
Dr. Nida Chenagtsang
POMAIA - 13-17 LUGLIO - JULY
Teaching in english Language
In lingua inglese con traduzione in lingua italiana
PROGRAMMA
Salute & Felicità Per il corpo e per la Mente
secondo il Buddhismo e la Medicina Tibetana con il Dr. Nida Chenagtsang

13 -14 Luglio: Chudlen བཅུད་ལེན། il Ringiovanimento Tibetano / corpo
15 -16 - 17 Luglio : Mahamudra /mente
Orario 13-16 : dalle 10 alle 17 - Domenica 17 dalle 10 alle 13
ALLOGGIO: vitto e alloggio non incluso
per informazioni
Borgo di Pomaia
Istituto Lama Tzong Khapa
con l'iscrizione riceverete l'accesso al corso e ad ulteriori informazioni aggiuntive anche per la richiesta di alloggio in istituto è necessario riempire un form che troverete nel vostro account dopo la registrazione al corso per accedere alla priorità di prenotazione presso il borgo o in lstituto quali partecipanti al corso in oggetto.
PROGRAM
Health & Happiness For the Body and Mind
According to Buddhism and Tibetan Medicine
with Dr Nida Chenagtsang
In-person and online program
July 13 -14: Chudlen བཅུད་ལེན། the Tibetan Rejuvenation/Body
July 15 -16 - 17 : Mahamudra /mind.
Timetable 13-16 : 10 a.m. to 5 p.m. -
Sunday 17 from 10 a.m. to 1pm
FOOD & ACCOMMODATION PLEASE ASK information TO:
BORGO di Pomaia
Lama Tzong Khapa Institute
with the registration you will receive access to the course and additional information also for the request of accommodation in the institute you need to fill out a form that you will find in your account after registering for the course to access the priority of booking at the village or listituto as participants in this residential course
iscriviti adesso |Join today
IT >
CORSO RESIDENZIALE DI 5 GIORNI in presenza oppure online -
PROGRAMMA COMPLETO DAL 13 AL 17 - Euro 300,00
Partecipazione al programma parziale:
DAl 13 al 14 ( chudlen ) Euro 150,00
Dal 15 al 17 ( mahamudra) Euro 150,00
( incluso di tessera annuale e accesso alla piattaforma registrazioni audio e video e traduzioni)
Per i membri ( già in possesso di tessera e account ) PROGRAMMA COMPLETO DAL 13 AL 17 - Euro 250,00
Partecipazione al programma parziale:
DAl 13 al 14 ( chudlen ) Euro 125,00
Dal 15 al 17 ( mahamudra) Euro 125,00
EN > 5-DAY RESIDENTIAL COURSE in presence or online -
FULL PROGRAM FROM 13 TO 17 - Euro 300.00
Participation in partial program:
FROM 13 TO 14 ( chudlen ) Euro 150.00
FROM 15 TO 17 ( mahamudra ) Euro 150.00

including annual membership card and access to the platform audio and video recordings and translation


For members ( already have membership card and account )
FULL PROGRAM FROM 13 TO 17 -
Euro 250.00
PARTICIPATION IN PARTIAL PROGRAM:
FROM 13 TO 14 ( chudlen ) Euro 125.00
FROM 15 TO 17 ( mahamudra) Euro 125.00
Chudlen
Chudlen བཅུད་ལེན།
Ringiovanimento tibetano
Le tradizioni mediche e spirituali tibetane contengono profondi insegnamenti su come ringiovanire il corpo, l'energia e la mente. In questo corso esperienziale studieremo la teoria di base delle pratiche tibetane anti-invecchiamento e impareremo semplici metodi per migliorare la salute e la vitalità e per bilanciare la mente e l'energia
EN > Chudlen བཅུད་ལེན།
Tibetan rejuvenation
Tibetan medical and spiritual traditions contain profound teachings on how to rejuvenate the body, energy and mind. In this experiential course we will study the basic theory of Tibetan anti-aging practices and learn simple methods for improving health and vitality and balancing mind and energy
Mahamudra
Mahamudra significa letteralmente "Grande Gesto", ma è comunemente tradotto come "Grande Sigillo". È uno dei metodi di meditazione tibetana più avanzati della tradizione Vajrayana, praticato dalla maggior parte delle scuole tantriche tibetane. È un insegnamento diretto sulla vera natura della mente.
Gli insegnamenti sul Mahamudra nello Yuthok Nyingthig - come la maggior parte degli insegnamenti sul Mahamudra - spiegano i Quattro Yoga del Mahamudra. Basato sulla trasformazione dei canali del corpo e dell'energia durante lo stadio Dzogrim, il Mahamudra dello Yuthok Nyingthig mira soprattutto alla trasformazione del thig le (goccia di essenza della mente)
CONTENUTO
Spiegazioni sul Mahamudra di Yuthok
Trasmissione
Istruzioni per la pratica e il ritiro
EN > Mahamudra ཕྱག་རྒྱ་ཆེན་པོ་
Mahamudra literally means 'Great Gesture', but is commonly translated as 'Great Seal'. It is one of the most advanced Tibetan meditation methods of the Vajrayana tradition, practiced by most of the Tibetan Tantric schools. It is a direct teaching about the true nature of mind.
The teachings on Mahamudra in the Yuthok Nyingthig - like most Mahamudra teachings - explain about the Four Yogas of Mahamudra. Based on the transformation of body channels and energy during the Dzogrim stage, Yuthok Nyingthig's Mahamudra aims especially at the thig le (essence drop of the mind) transformation.
CONTENT
Explanations on Yuthok's Mahamudra
Transmission
Instructions for practice and retreat
Nejang
Corpo: NEJANG Yoga curativo tibetano;
Consigli di base su dieta e stile di vita in base alla propria tipologia
L'INSEGNANTE | THE TEACHER
Dr. Nida Chenagtsang
Dr. Nida Chenagtsang è un medico tradizionale tibetano e detentore del lignaggio Yuthok Nyingthig, l'unica tradizione di guarigione spirituale della Medicina Tibetana. Nato ad Amdo, nel Tibet nord-orientale, ha iniziato i suoi primi studi di medicina presso il locale ospedale di Medicina Tibetana. In seguito ha ottenuto una borsa di studio per entrare all'Università Medica Tibetana di Lhasa, dove ha completato la sua formazione medica nel 1996 con una formazione pratica presso gli ospedali di Medicina Tibetana di Lhasa e Lhoka. Oltre alla sua formazione medica, il Dr. Nida si è formato nel Vajrayana con insegnanti di tutte le scuole del Buddhismo Tibetano, specialmente nel Longchen Nyingthig della scuola Nyingma dal suo maestro principale Ani Ngawang Gyaltsen e nel lignaggio Dudjom Tersar da Chönyid Rinpoche e Sremo Dechen Yudron. Ha ricevuto insegnamenti completi nel lignaggio Yuthok Nyingthig, l'unica tradizione spirituale della Medicina Tibetana, dai suoi insegnanti Khenpo Tsultrim Gyaltsen e Khenchen Troru Tsenam, ed è stato richiesto di continuare il lignaggio da Jamyang Rinpoche della tradizione Rebkong ngakpa/ma (yogi e yogini non monastici).
Il Dr. Nida è il direttore medico e insegnante principale del Sorig Khang International e dell'Istituto Sowa Rigpa: Scuola di Medicina Tradizionale Tibetana; co-fondatore dell'Istituto Internazionale Ngakmang, istituito per preservare e mantenere la cultura Rebkong ngakpa non-monastica yogi/ini nella moderna società tibetana; e co-fondatore di Pure Land Farms: Center for Tibetan Medicine, Meditation and Rejuvenation a Los Angeles, California. Oltre al suo lavoro di medico, forma studenti in Sowa Rigpa e nella tradizione Yuthok Nyingthig in oltre quaranta paesi del mondo.


drnida.com
? PROBLEM in REGISTRATION?


Hai problemi a registrarti?
IT | Per favore scrivi il tuo indirizzo email e ti contatteremo noi per aiutarti nella registrazione.
EN | Please write your email address and we will contact you to help you with the registration.
NEWS
4th - 5th November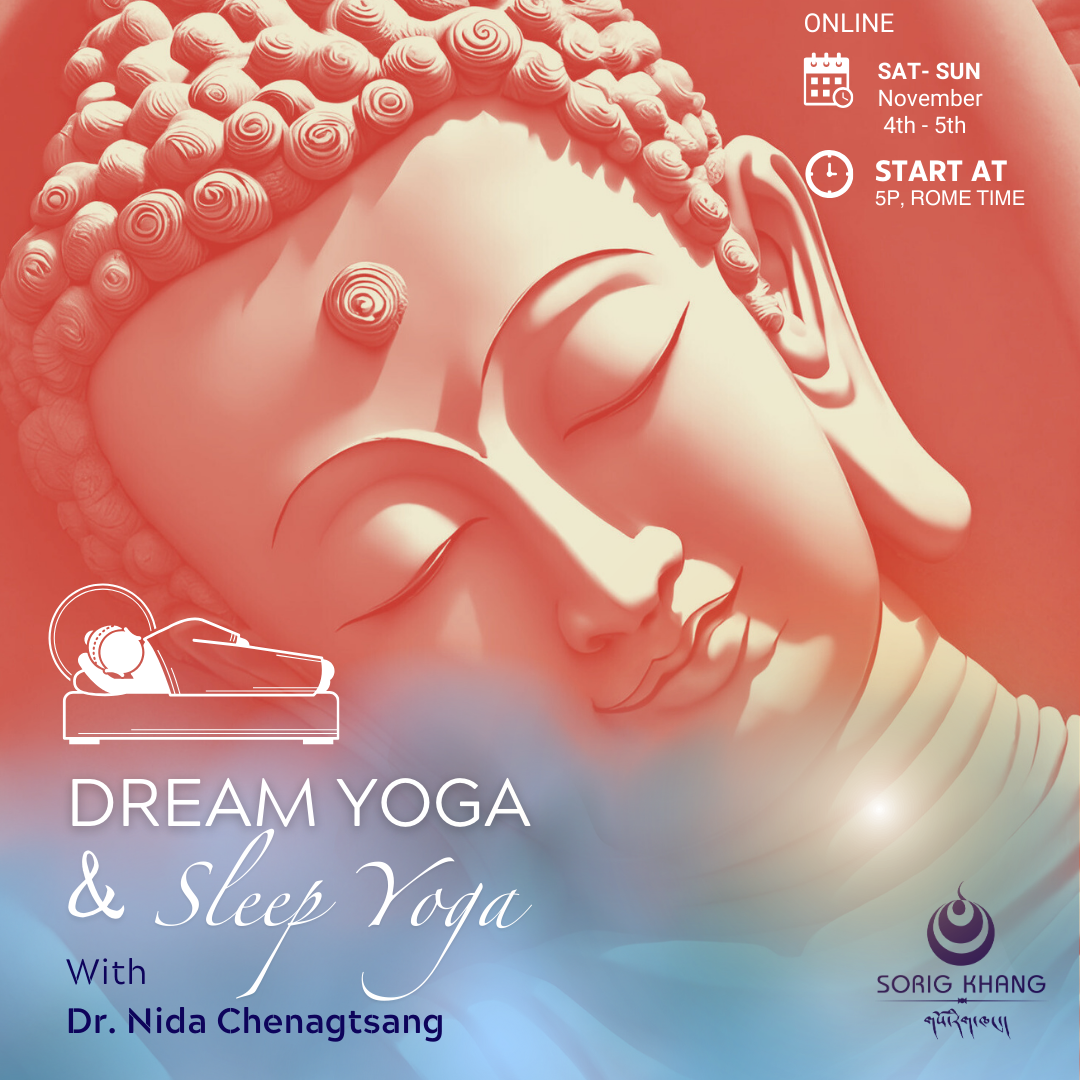 Now the website is in two languages
Language switcher with English Flag is below in the botton of the page
Created with